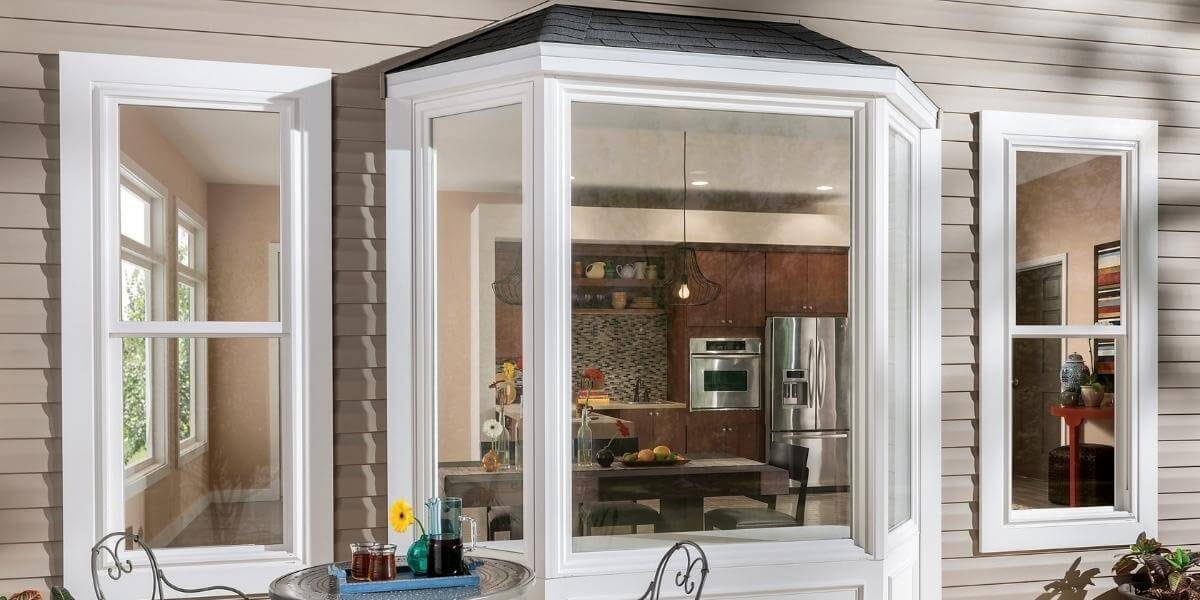 Bay Windows vs. Bow Windows: What's the Difference?
Bay and bow windows add a certain charm to a home. Along with boosting its curb appeal, these windows allow in more natural light and, in many cases, add more functional interior space. Which one is right for your home? Before deciding, it's essential to understand the difference between bay windows vs. bow windows.
The Difference Between Bay and Bow Windows
While similar in nature, bay and bow windows differ in many ways. One primary difference between these two window styles is their configuration.
Bow windows are arc-shaped and typically consist of at least four casement windows.
Bay windows have three sections – one large picture window and a smaller window on each side. While they also bow outward, like bow windows, bay windows have a more angular shape.
Generally, bow windows are longer and take up more space – they can be 80" or more in length. Bay windows are preferred for modern homes because of their angular design. However, bow windows are commonly found in Victorian homes because they add elegance and charm.
Both bay and bow windows add functional space and value to a home, but they differ in their care, operation, and other factors.
Operation
Bay and bow windows differ in the way they operate. The large, center picture window is typically fixed and inoperable with bay windows. The two side windows may or may not be operable, depending on the style. Some bay windows have side-hung, single-hung, or double-hung windows adjacent to the picture window.
Bow windows typically consist of casement windows that open and hinged on the side. In some cases, bow windows are fixed and inoperable.
Energy Efficiency
Bay and bow windows can be energy efficient, whether fixed or operable. However, Bay windows are typically a little more energy efficient because they are not as wide and have fewer openings than bow windows.
Still, with both bay and bow windows, there are energy-efficient options, such as:
Low-E insulating glass protects against energy loss in winter and the sun's heat in the summer.
Double- and triple-pane options that allow for greater energy efficiency.
Thanks to these advancements, bay and bow windows can add beauty and natural light to your home without skyrocketing your energy bills.
Additionally, bay and bow windows will increase the natural lighting in your home, so you can rely less on artificial lighting to brighten up your home.
Ventilation and Air Circulation
When operable, bow and bay windows can improve ventilation and air circulation in the home. The amount of ventilation depends on the type of window that's installed.
Casement windows – common with bow window styles – open from top to bottom and allow for
Single hung windows – common with bay window styles – allow you to open the bottom half of the window for improved ventilation and circulation.
Both window styles offer considerable ventilation and air circulation. However, bow windows may have a slight edge over their bay window counterparts because the entire window can be opened and not just the bottom half.
In most cases, bow windows do not have screens, so more fresh air can freely flow through the room. In spring and early summer, these windows can reduce the need for air conditioning because of their exceptional circulation and ventilation.
Maintenance and Care
One big concern when installing any type of window is maintenance and care. Both bow and bay windows have similar maintenance and care requirements, and regular cleaning can help keep these windows looking their best.
With side hinge or casement windows, cleaning is simple. You can clean both the inside and outside of the window from inside your home. With fixed picture windows, like those found in bay windows, the exterior must be cleaned from the outside of the home.
Occasionally, the hinges on bow windows may need lubricating oil. Lubrication allows for smooth operation and helps prevent rust.
In addition to cleaning the glass, it's important to take care of the window's frame. Vinyl or fiberglass frames are easy to wipe clean and are generally resistant to staining.
While bay and bow windows are generally easy to clean and maintain, it's still important to avoid using harsh or abrasive cleaners that can damage the windows and their components.
Uses and Applications
Both bay and bow windows allow more natural light into your home. However, here are a few important things to consider regarding uses and applications.
Bow windows generally allow more light because they tend to be longer and have more glass
Bay windows typically offer more internal usable space because they protrude farther away from the wall. These windows are ideal for creating window seats, reading nooks small spaces for hobbies, or even growing plants.
Bow windows can wrap around corners to offer unique views and interest to the home's architectural design.
If your primary goal is to add more light and ventilation to the space, bow windows may be the ideal option. On the other hand, you may prefer bay windows if you want more usable space and natural light.
Cost and Availability
Bay and bow windows are often twice the cost of conventional windows. The higher price is because both window types consist of multiple windows. Installation is often more complex, and in some cases, you may need additional engineering.
Bow windows tend to be more expensive than bay windows because they have more window surface, and the installation is more complicated.
Although the cost may be higher than conventional windows, bay and bow windows add curb appeal and value to a home. Because these are two of the most popular window options, they're readily available from your local window company.
Metropolitan High Performance Windows works closely with homeowners to customize their bay and bow windows. Whether you prefer single-hung, double-hung, casement windows, fixed windows, or a combination of window types, we can help bring your vision to life.