Convenient Payment Methods and Affordable Financing Options
Payment Methods
Cash
Check
Debit
All Major Credit Cards including Amex, Discover, MasterCard and Visa
Financing Options
If you would like to finance your project, we don't limit your choices. Metropolitan High Performance Windows works with a number of lending partners to give you lots of options, programs, and payment plans to choose from. You can work with the lenders directly or we can help you through the process.
Lots of options means you stay in charge and select the rate, term, and payment plan that works best for your situation. Below are some of our finance partners.
REEL Program – 100% Financing for Customers of Select Utility Providers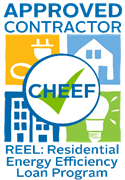 The REEL Program provides customers of Southern California Edison (SCE®), Southern California Gas Company (SoCalGas®), Pacific Gas and Electric Company (PG&E®), or San Diego Gas & Electric Company (SDG&E®) eligibility for a 100% financed, no home equity, no lien, no closing cost, no origination fee, no pre-payment penalty loan. Fico scores as low as 580.
Property Assessed Clean Energy (PACE) Financing – 100% Financing Using Your Homes Equity



Property Assessed Clean Energy (PACE) program is a financing mechanism that enables low-cost, long-term funding for energy efficiency, renewable energy and water conservation projects. PACE financing is repaid as an assessment on the property's regular tax bill, and is processed the same way as other local public benefit assessments (sidewalks, sewers) have been for decades.
Qualify through the equity in your home.PACE is voluntary, can cover 100% of a project's hard and soft costs, has financing terms up to 20 years, and can be combined with utility, local and federal incentive programs. Energy projects are permanently affixed to a property and the PACE assessment is filed with the local municipality as a lien on the property.
Traditional Financing – No Interest, No Payment Options



Traditional financing with fast funding! Special financing options—no interest, no payment options for up to 18 months. Financing for projects between $2,000 and $50,000. Almost every type of project qualifies.
Banks Compete For Your Business – Receive Offers without Credit Check
Traditional financing with modern technology that ensures homeowners get the best rates on home improvement financing. Enter some basic information and competing banks send you offers! Every offer has fixed payments and clear terms. And they don't run a credit check until you accept an offer so your credit score is not affected. You pick the payment term, interest rate, and length of payment from all the competing offers. You are in charge.
Questions?
Call 800-995-8878 or email us to learn more about our payment methods and financing options.