The California Window Company
Serving Anaheim, Riverside, Los Angeles, Kern, San Bernardino & Orange Counties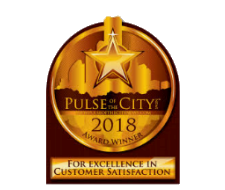 Pulse of the City Award Winner
For Excellence in Customer Service
2018
As a family owned and operated window company for over 20 years, Metropolitan High Performance Windows has earned our excellent reputation for outstanding customer service, expert advice, competitive pricing and unsurpassed workmanship in replacement window installation. We pride ourselves on our wide variety of high-quality products that meet or exceed the highest industry standards for quality and energy efficiency. All of the premium vinyl replacement windows, sliding patio doors, entry doors, French doors and pet doors we sell include lifetime warranties. Plus, if you choose to finance your project, we offer convenient financing options (including REEL) from multiple lending partners so you can select the best rate, term and payment plan to get the most from your remodeling dollar. We're the custom window and door company that takes pride in the professionalism of our team and our commitment to excellence in replacement window and door installation. All of our window installers work exclusively for Metropolitan High Performance Windows, are AAMA certified and have a minimum of 15 years of window installation experience. Our window installers are polite, dedicated craftsmen committed to making your home remodeling experience pleasant and hassle-free.
Proven Five-Step Installation Process
Our Five Step Ordering and Installation Process is Time-Tested and Proven to Result in the Highest Levels of Customer Satisfaction:
Once you've selected Metropolitan High Performance Windows for your replacement window or door installation project, we'll do a final walk-through of your home to re-measure each window and re-confirm your selections, options and preferences.
We'll immediately order your replacement windows and doors from our manufacturing facility, custom-measured to your home's specifications. Production time is generally two to two and a half weeks.
Within seven to ten days we will contact you to schedule the installation on a day and time convenient for you. We will provide you the name of the assigned crew chief and answer any additional questions.
On installation day, our crew will arrive at the agreed upon time and begin your window and door replacement. Most jobs are completed in one or two days. We will never interrupt your installation to work on another customer's project. The crew cleans up as they go and never leaves a mess or an open, unfinished window. The job isn't done until you are completely satisfied.
When your replacement window and door project is completed, you will receive a customer satisfaction survey that will allow you to rate your windows, the installers, and your experience with Metropolitan High Performance Windows. We're confident you'll be satisfied with your beautiful new, energy-efficient windows and doors!
Why Choose Our Window Installation Company?
Lifetime Warranty on Highest-Quality Windows: Our wide selection of top-quality vinyl and aluminum replacement windows are available in a variety of styles to suit any budget, and all are covered by a lifetime warranty. Metropolitan High Performance Windows is the trusted supplier and installer of energy-saving premium vinyl windows from the premier brands in the industry.  All of our products are proudly made in the USA – many right here in California.
Free Same-Day Estimate: We make getting an estimate for home window replacement a simple, no pressure experience; we don't use high pressure sales tactics or "one time only offers" to get your business. We'll schedule a short, convenient appointment to visit you at home so we can assess your replacement window needs and give you a free, accurate, on-the-spot estimate. We provide you with honest, transparent pricing and guarantee the best value and quality for your money.
Quick, Hassle-Free Turnaround: Metropolitan High Performance Windows has established a dependable, streamlined ordering and delivery process that enables us to be finished installing replacement windows for you within three to four weeks of the day we give you your estimate. We make getting replacement windows a stress-free experience for you!
Expert Installation and Cleanup: Metropolitan High Performance Windows' certified window installers are factory-trained and dedicated to providing the highest quality workmanship and replacement window service in the industry. Unlike with other window companies, you won't be left with a mess; our polite, professional installers will clean up all installation debris and leave your home as clean as we found it.
Best Customer Service in the Industry: Our polite, friendly, professional staff has earned outstanding reviews for the industry's best customer service. We've won the Angie's List Super Service Award for five consecutive years and the 2018 Pulse City Award for Excellence in Customer Satisfaction.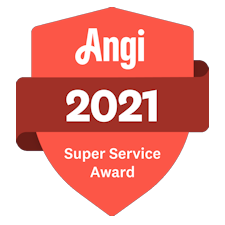 The Go-to Window Company
"Metropolitan High Performance Windows is the go-to window and door company in my neighborhood. They've been helping homeowners in my community update their homes with new windows and doors for decades, and they have a reputation for precision replacement window and door installation. I wouldn't trust anyone else to provide me with high-quality, energy-efficient windows and doors for my home!"
~ The Meekers, Los Angeles (Angie's List Reviews)
Contact Us
Metropolitan High Performance Windows has been installing beautiful, energy efficient, and affordable replacement windows and doors for over 20 years.
Getting an Estimate is Easy!
To learn more about our windows, doors and installation service or to get an estimate, give us call at 800-995-8878 or email.
Licensed, Insured and Certified
Metropolitan High Performance Windows is Fully Licensed, Bonded and Insured as required by the California Contractors State Licensing Board.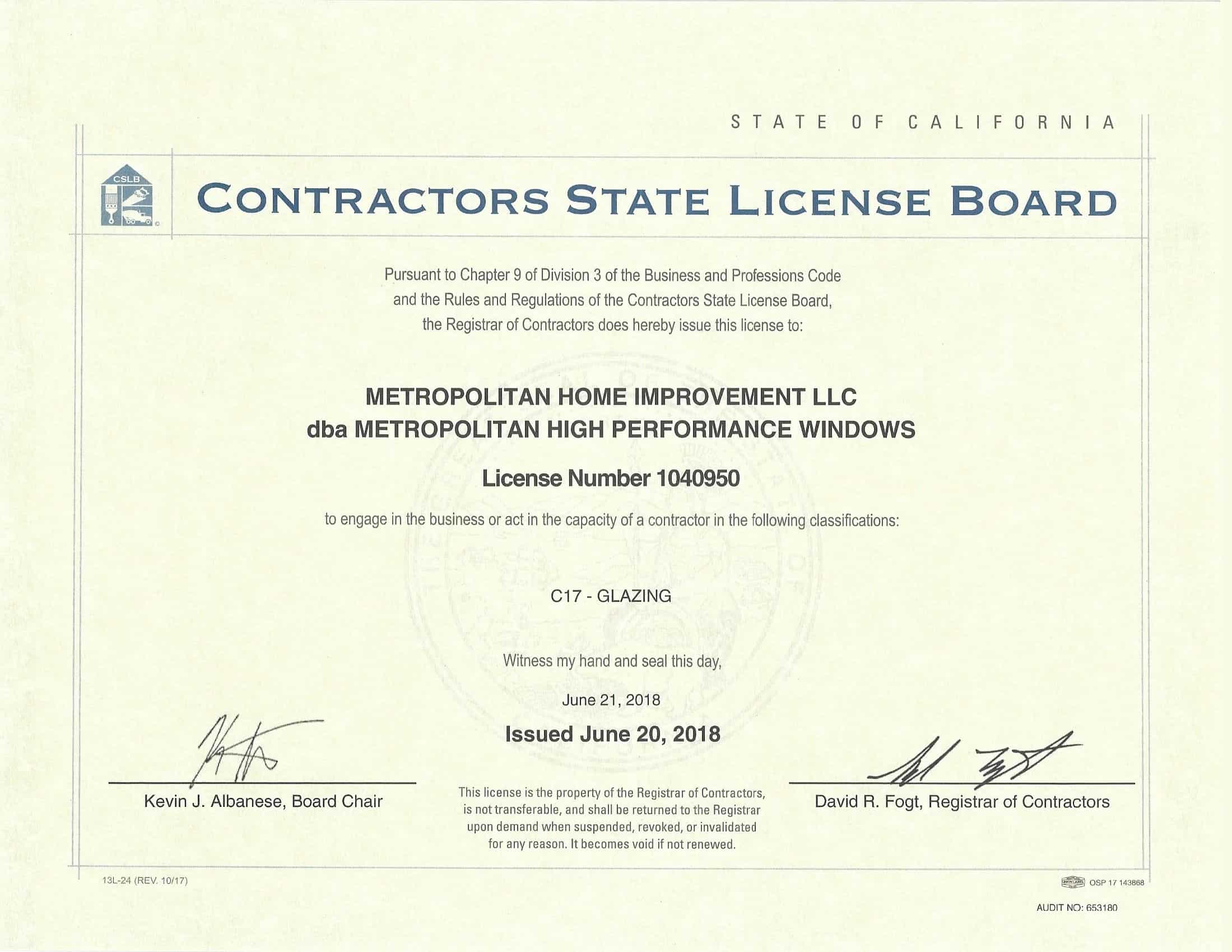 CSLB License #1040950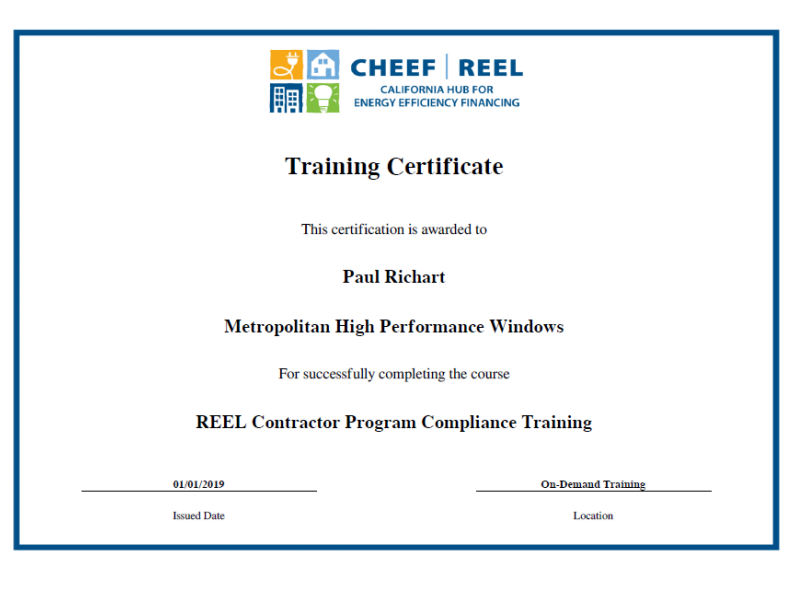 REEL Contractor Program Compliance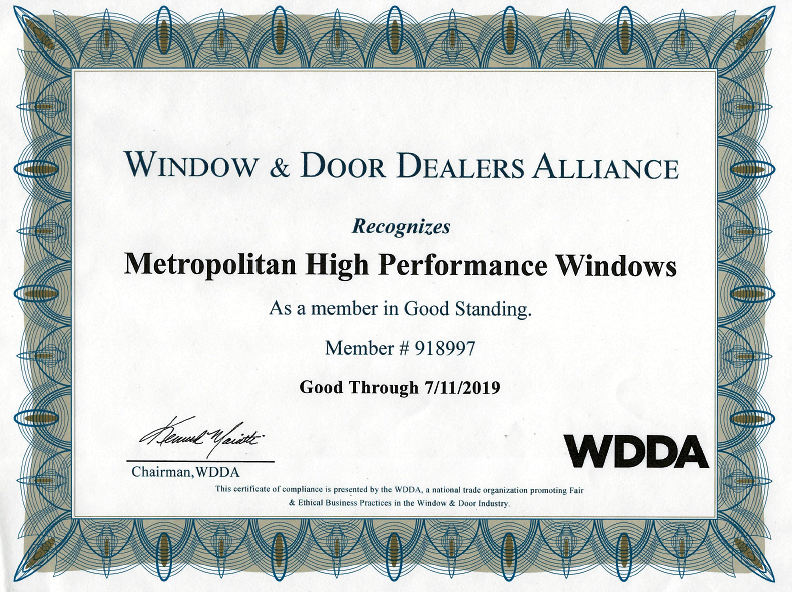 WDDA Member of Good Standing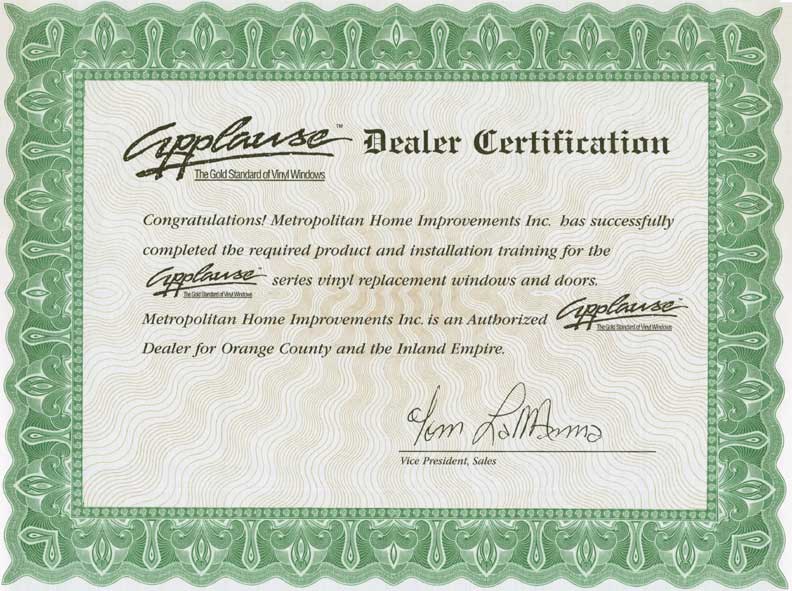 Applause Dealer Certification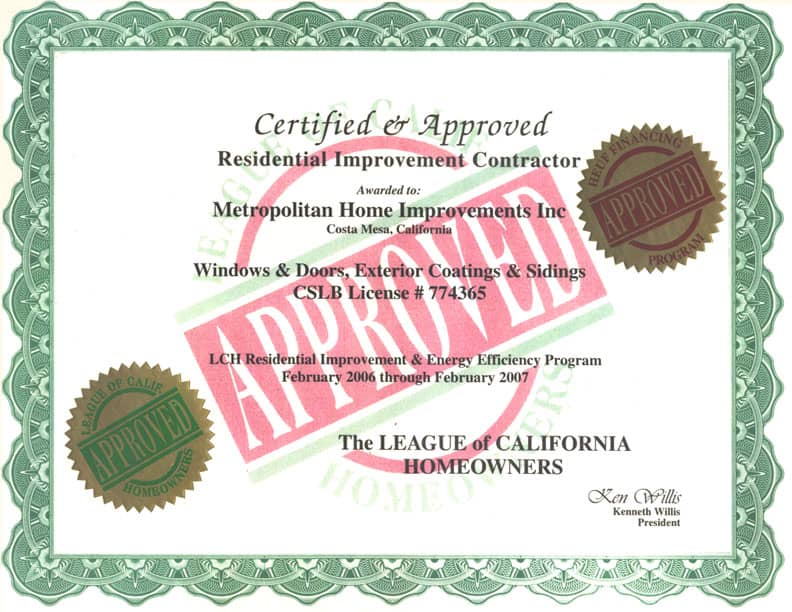 Certified and Approved by League of California Homeowners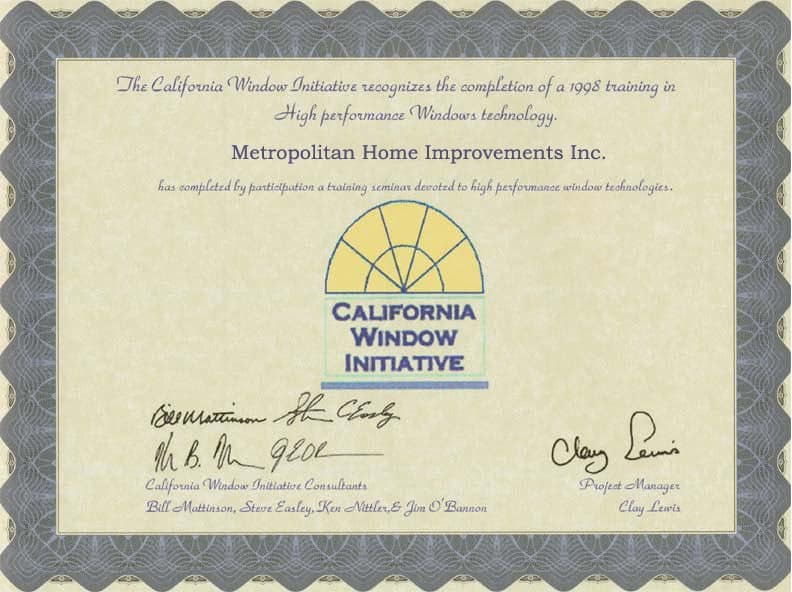 California Window Initiative for Dedication to High Performance Window Technology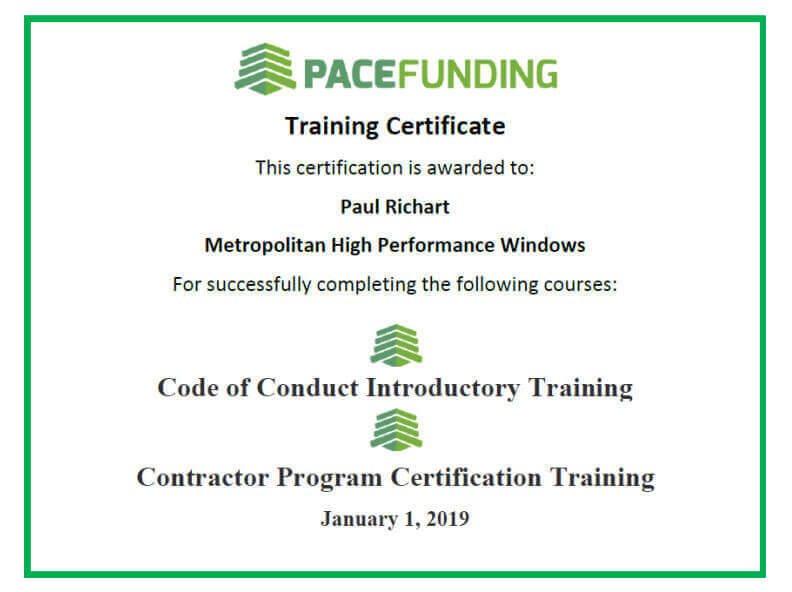 PACE Funding Certification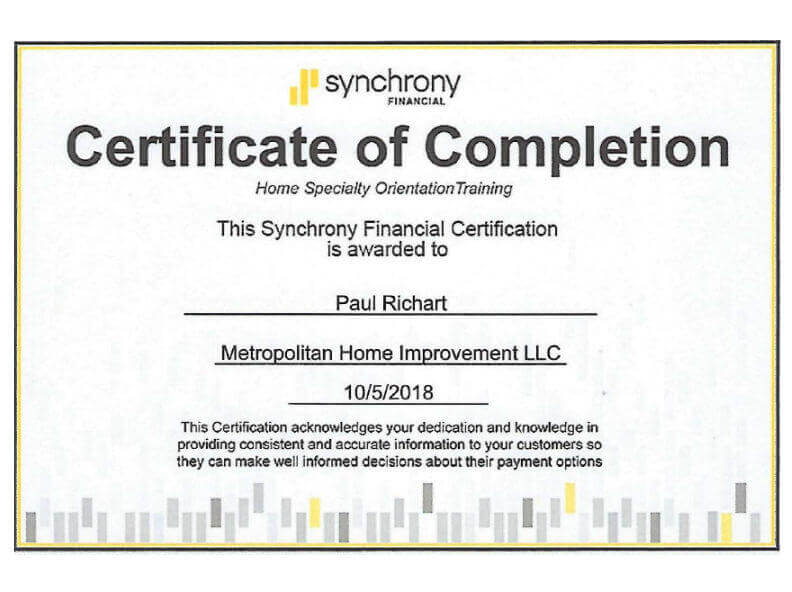 Synchrony Financial Certification