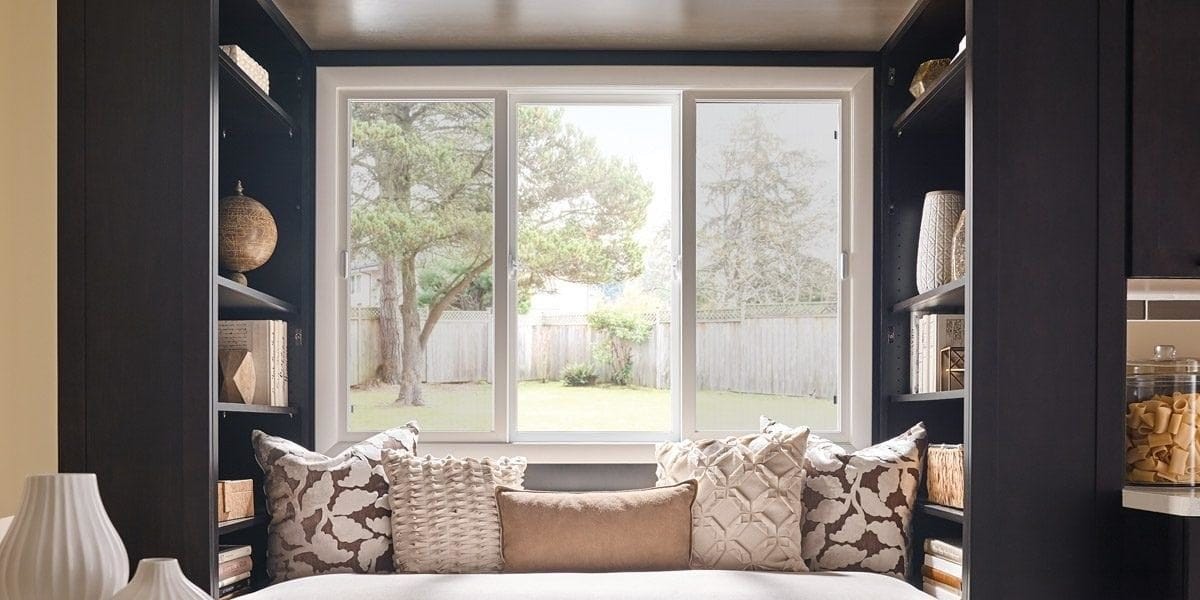 What Are Sliding Windows?
Home windows come in a variety of styles and sizes. Single- and double-hung windows are popular choices among homeowners, but sliding windows offer many advantages over their vertical counterparts. Slider windows are an excellent option for hard-to-reach places and easy window operation.
What Are Slider Windows?
Essentially, a sliding window is a single-hung window flipped onto its side. Just as its name implies, you can slide these windows from the left or right. Think of them as mini sliding glass doors. 
Sliding windows will look great in any room, but they're especially beneficial for hard-to-reach areas where you want to let in bright light, such as a bathroom, kitchen, or basement.
There are a few configurations for sliding windows:
2-Lite: There are two panes of glass in this configuration, one or both of which can be opened and closed depending on style.
3-Lite: With a 3-lite slider window, there are three window panes. The center pane is fixed, and the windows on the left and right are operational. In some cases, all three panes are the same size, but typically, the center pane is larger than the two side windows.
What Sizes of Slider Windows are Available?
Slider horizontal windows come in a variety of sizes. 2-Lite windows are available up to 8  feet wide, while 3-Lite windows can be manufactured as large as 12 feet wide.
Types of Slider Windows
There are a few types of sliding windows:
Single-Slider Windows (XO or OX): These have one operable window and one fixed window. The XO or OX refers to the operable side of the window, with the "x" representing the operable side.
Double-Slider Windows (XX): These have two operable windows. 
Triple-Slider Windows (XOX): These have two operable windows and a fixed window. The "x" represents the operable windows.
Operation and Energy Efficiency
With their easy operation and energy efficiency, slider windows are a popular choice for homes.
How to Open Slider Windows
Slider windows are exceptionally easy to operate, so they are an excellent option for areas that are hard to reach. Also, unlike double- or single-hung windows, sliders open from side to side. 
Whether you have a 2-lite or 3-lite configuration, the operation is the same: 
Slide from the far left or right of the window toward the center to open. 

Slide back towards the far left or right of the window to close it.
When properly installed, sliding windows open and close effortlessly.
What Kind of Lock Do You Use on Slider Windows?
Slider windows can be secured in a few different ways:
Auto Locks: These locks secure automatically when the sash is closed, so you don't have to worry about locking your windows manually.
Pull-Tight Cam Locks: These locks provide tamper-proof security and increased weather-tight performance.
Sash Bolts: These optional locks provide an additional level of security.
How Energy Efficient are Slider Windows?
Sliding windows can be more energy efficient than other types of windows. 
When

properly installed

, sliding windows close tightly and prevent outside air from making its way inside.

Modern windows come with an energy-efficient permanent coating and insulating gas between the panes that keep the home warmer in the winter and cooler in the summer.

High-quality windows can block up to 99% of UV rays to eliminate any fading of furniture or flooring.
Sliding windows with vinyl sashes do a great job blocking out the weather and are highly durable.
Ventilation and Circulation
Sliding windows open from side to side, which maximizes natural ventilation. They allow fresh air to circulate through the room quickly and easily. If you have multiple sliding windows in the same room, they can create a cross breeze that keeps the space cool and comfortable. 
In addition to the windows' energy-efficient properties, the increased ventilation is estimated to reduce energy bills by up to 40%, making slider windows among the window styles that offer the best ventilation.
How to Care for Slider Windows
One great advantage of slider windows is that they're easy to clean and maintain.
How to Clean Slider Windows
Cleaning slider windows is simple. We recommend mild dish soap and water to clean the window's interior. Rinse thoroughly with clean water and wipe dry with a soft cloth. 
To clean the exterior of the window pane:
Unlock the window. Slide it to the fully open position.

Gently lift the window up and off the bottom track.

Tilt the bottom of the window towards you to remove it from the frame.

Lay the window flat to clean it.

Replace the window. 
As you can see, cleaning a slider window is just like cleaning any other type of window. Just keep in mind that the sash can be heavy, so it's important to be cautious when removing it and replacing it during cleanings.
How To Maintain Horizontal Sliding Windows
Cleaning plays a crucial role in the maintenance of your sliding windows. After the hardware is clean and dried, it must be lubricated to restore the smooth operation and, in some cases, corrosion resistance. We recommend that you lubricate the hardware once a year. In areas with high salt air, lubricating the hardware at least twice a year is recommended to ensure your windows continue to slide effortlessly.
The lubricant should be 100% silicone and can be found at most major hardware stores.
Cost and Availability
Slider windows are readily available and are a more affordable option compared to other window types. 
How Much are Double Slider Windows?
Double Slider windows cost about 5% more than a standard 2-Lite slider. Still, they are often worthwhile as both sashes can open simultaneously for more air circulation, and you are not limited to only selecting a single sash to open.
Are Slider Windows Cheaper Than Casement Windows?
Casement windows are the most expensive window style. They funnel a lot of air into the home as the open sash catches and directs the air. Casement windows are more limited in size – usually only up to 38" wide – and require a bit more effort to open and need enough room outside the home for the sash to open out.
Sliding windows offer easy operability, energy efficiency, and excellent airflow. With multiple sizes and configurations available, slider windows are an attractive and affordable option for homeowners looking for replacement windows or new window installation.
Metropolitan High Performance Windows works closely with homeowners to select and customize the replacement windows that match their unique style and budget.  Whether you prefer single slider, double slider, or triple slider windows, we can help bring your vision to life.
Call 800-995-8878 or email us to find the best new windows for your home.