Orange County, CA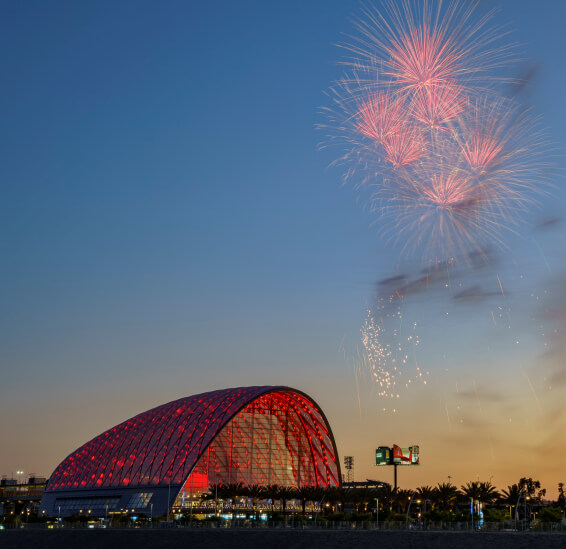 Over the course of the past few decades,
Orange County
has emerged as one of the most iconic areas in the entire country. This is in part due to its key location. Aside from being centrally located in the metropolis of Los Angeles California, the county boasts a dynamic range of neighborhoods and cities. With breathtaking beaches, stunning resorts, renowned restaurants, prestigious shops, and legendary theme parks, there's no question that Orange County has something for everyone.
Orange County Business Environment
Orange County is home to some most esteemed businesses in California, including upscale boutiques and local mom-and-pop shops. Both Fashion Island, located in Newport Beach, and South Coast Plaza, located in Costa Mesa, offer a world-renowned experience with a curated mix of luxury boutiques and artisanal eateries. GardenWalk and Center Street Promenade, both located in Anaheim, are sprawling outdoor centers filled with dining, shopping, entertainment, beautiful homes, window companies, and activities for all ages and walks of life. On the other end of the spectrum, The LAB 'Anti Mall,' located in Costa Mesa, is an open-aired market that offers the chance for visitors to shop local, handcrafted products.
Culture
Orange County has been at the center of American entertainment culture for years, From Hollywood films, such as Angels in the Outfield and Catch Me if You Can, to reality TV series, such as Laguna Beach and The Real Housewives of Orange County, viewers across the United States have gotten a glimpse into Orange County culture. The 'OC' is also home to countless celebrities and public figures, including Gwen Stefani, Michelle Pfifer, Austin Butler, and Will Ferrel. These celebrities can often be spotted in Orange County's most revered venues that have become synonymous with the OC culture. These include shops and restaurants, such as Nobu, Mastro's Steakhouse, and A Restaurant.
Tourism & Attractions
It's no secret that Orange County is home to legendary attractions, including Disneyland, Knott's Soak City, and Knott's Berry Farm.
Disneyland Resort
The Disneyland Resort, located in Anaheim, includes three separate destinations – Disneyland Park, Disney California Adventure Park, and Disney Downtown District. Known as the 'Happiest Place on Earth,' Disneyland Park offers magical attractions, character meet-and-greets, parades, shows, dining experiences, and more. The theme park features an array of distinct lands, including Fantasyland, Tomorrowland, Main Street USA, and Adventureland. Disney California Adventure Park invites park-goers to transport into a magical world filled with their Disney and Pixar characters and storylines. Finally, Disney's Downtown District offers Disney-inspired shops, restaurants, and entertainment.
Knott's Berry Farm
Knott's Berry Farm, located in Buena Park, encompasses three separate destinations – Knott's Berry Farm Themepark, Knott's Soak City Waterpark, and Knott's Berry Farm Hotel. Known as 'So-Cal's Original Theme Park,' Knott's Berry Farm features rides, roller coasters, performances, and interactive experiences. Soak City Waterpark invites park-goers to embark on a range of thrilling water-filled adventures. The waterpark includes a massive tidal pool, a range of waterslides, and a sprawling Beach House filled with interactive water games and devices. Finally, the Hotel offers visitors a range of accommodations and amenities in close proximity to the attractions and eateries.
Community & Groups
The Orange County Business Council acts as the "leading voice of business" and sets out to promote, enhance, and grow all types of business across the region. More specifically, there are a number of networking groups and communities that cater to small, niche businesses. The Orange County Business Networking Group and the LIFT Women's Business Alliance, for example, offer business owners an opportunity to meet up and connect with fellow business owners in the area.
Orange County Cities
Santa Ana
Santa Ana is a highly populated city running along the Santa Ana River. While not directly located on the coast, Santa Ana offers plenty of outdoor activities. There are plenty of parks, including Santa Ana Park Nature, Carl Thorton Park, and Fair View Park as well as the Santa Ana Zoo. The town has a rich history with many destinations still around today, such as the Artist Village, Civic Center, and Bowers Museum.
Irvine
Irvine has become a booming center of business as many large corporations have established headquarters in the city. Novak Electronics, Billabong, LA Fitness, and Acorns are among the extensive range of businesses that call Irvine home. The city also hosts a number of events for residents and visitors. Most notably, the annual Irvine Global Village Festival in the Orange County Great Park celebrates the diverse culture of it's locals.
Garden Grove
Situated in the northern portion of Orange County, Garden Grove has a rich history in arts and agriculture. The city boasts two historical theaters, the Gem Theater and the Festival Amphitheater, that still operate today and hold annual festivals. It's also known for its annual Strawberry Festival where visitors from all over gather to celebrate California's agriculture and enjoy fresh foods, outdoor activities, rides, and a parade.
Huntington
Often referred to as 'Surf City USA,' Huntington beach is best known for having over 9 miles of beaches. It also boasts an impressive mix of outdoor activities, upscale shopping, and renowned dining. The city is located on the coast of California, offering residents and visitors access to some of the best beaches and surfing the state has to offer. Huntington Beach also offers events and pop-ups, such as The U.S. Open of Surfing, the AVP Beach Volleyball Tour, and The Surf City Nights Certified Farmers Market.
Future of Orange County
As time goes on, there's no doubt that Orange County will continue to evolve into a rich and diverse mecca for sports, art, and entertainment. Annual festivals, events, and outdoor activities will continue to attract residents, visitors, and businesses alike. The OC truly does have something for everyone.