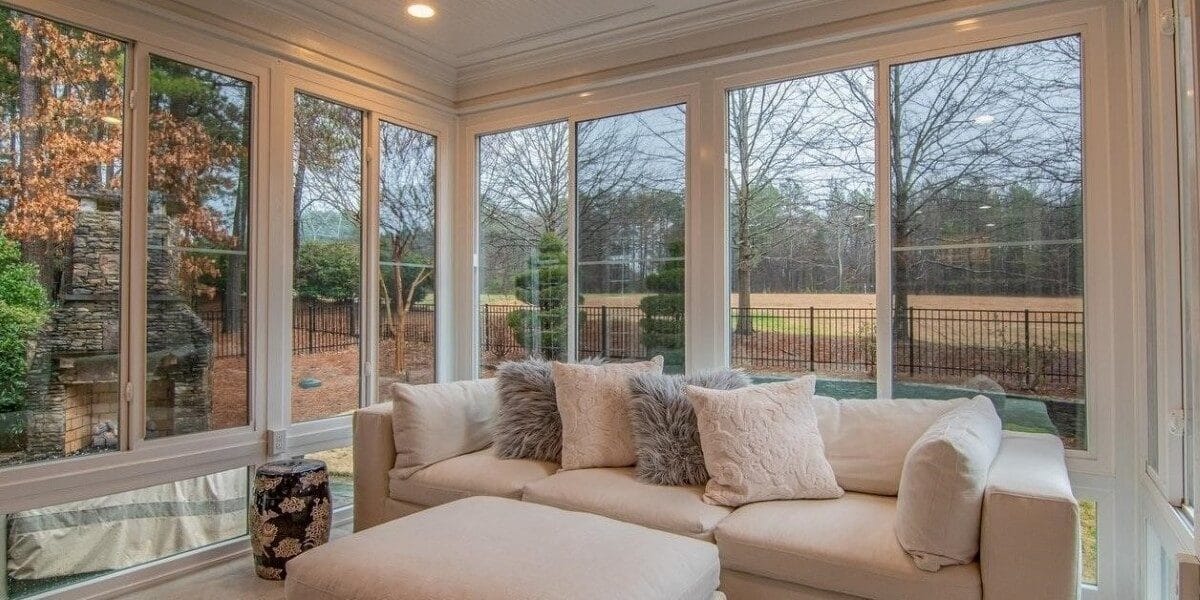 Guest Post by Cassandra Rosas: How to Choose and Maintain Your Windows, Curtains, and Blinds
Your windows are one of the most important parts of your home, so it's important to choose the right type of window and to take good care of them to keep your windows looking clean and new. Window coverings like curtains and blinds are also an important part of the home decor and interior design, they keep you comfortable and provide additional privacy. If you're trying to decide on the different types of windows, curtains, and blinds for the home style you are looking for, check out the following great options. Whether you prefer a luxurious finish, a classical, or a boho look at home, read on to learn more about the popular styles available and how to take care of them, and discover practical tips for easy maintenance so you can easily update and maintain every window and window coverings of all the rooms of your home.

Windows: Types and Maintenance
Here are the most common types of windows for the home and how to clean and maintain them so they last for years to come.
Single Hung: A single-hung window has a bottom sash that opens inward, making it a prime choice for small rooms or narrow hallways. Clean your single-hung window with a soft cloth and standard glass cleaner, and open the sash to clean the outside glass.
Double Hung: Double-hung windows feature a top and bottom sash, and both can be opened to allow for excellent airflow making this one of the best window styles for natural ventilation. These are the most popular types of windows for homeowners, and they're easy to clean and maintain since both sashes can be opened to clean the outside and inside of the glass.
Oriel: A type of bay window, oriel windows are typically installed on upper floors. Supported by a bracket or corbel, this type of window allows for a lot of extra sunlight and can make narrow rooms or hallways feel larger. Window tracks should be cleaned and lubricated regularly to ensure smooth operation.
Cottage: Cottage windows are double-hung windows, but the upper sash is shorter than the lower one, and they're more commonly found on older or historic houses. These classic windows are low maintenance, but they're a bit tougher to clean due to the smaller upper sash, so check them regularly to ensure that the glass, windowsill, and frames are clean and in good working order.
Two Panel Slider: A two-panel slider features two horizontal panes of glass that can slide from side to side to open them. Affordable and durable, they're a good choice for new windows on a budget. However, since this window style doesn't swing open, cleaning the outside can be a challenge. Apply a water-repelling treatment to the outer glass to keep them cleaner longer.
Three Panel Slider: The three-panel slider window has a large center pane and two smaller sliders with one on each side. This window style is great for providing a panoramic view and gives you the option to open either side whenever you need extra ventilation. It's also durable and low maintenance, but you'll need a ladder to clean it on the outside since the panes don't tilt inward for easy cleaning.
Picture: A picture window is a large window that doesn't open, but it provides an amazing view. Many picture windows are found on homes with high ceilings, which means keeping these windows clean can be a challenge. You'll need to use a ladder to clean picture windows that are high up. Frequent inspections to make sure that the weatherstripping and frames are in good condition are recommended to prevent leaks.
Deadlites: Similar to a picture window, deadlites have just one sash and no primary frame. Affordable and energy-efficient, you should clean and maintain these windows in the same way you would with a standard picture window.
Hopper: Hopper windows are usually installed horizontally and tilt inward to open. These windows have hinges on the bottom so you can open them from the top. Keep these windows clean by wiping the glass and frames regularly on the inside and outside, and lubricate the hinges occasionally to ensure the window opens smoothly.
Casement: A casement window is similar to a hopper, except it's installed vertically. This long, narrow window has hinges and uses a crank to open it inward or outward from the side. Keep it clean by wiping the glass regularly on the inside and outside, and check the hinges to ensure that they're operating smoothly and that all of the weatherstripping is in good condition.
Awning: An awning window is like a hopper, except it opens outward instead of inward. Perfect for protecting your home from rain and snow, these horizontal windows provide excellent insulation. Cleaning them can be challenging since you can't swing them inward, so you'll need to clean them from the outside regularly.
Transoms: This long, narrow window is usually used as an accent and can be installed inside the home as well as the outside. While beautiful to look at, transom windows can be difficult to clean, mostly because they're typically installed at taller heights. Check frames and insulation often to ensure the window is protected from leaks.
Round: Round windows are beautiful to look at, but they can't be opened. Often used in bathrooms or attics, they add architectural interest to your home. Clean your round windows by wiping the inside and outside glass with a soft cloth and window cleaner.
Jalousie: A jalousie window features parallel sections of glass attached to wooden or acrylic louvers that you can tilt open and closed at the same time. These beautiful windows offer amazing ventilation and look beautiful on virtually any type of home. Because of the several sections of glass, it's important to make sure that each pane is cleaned thoroughly so they stay clear and look new.
Blinds: Types and Maintenance
Here's how to clean blinds as well as the various types available to provide you with privacy and shade.
Vertical: Vertical blinds are placed on a track that slides from side to side. These blinds are commonly installed over sliding glass doors, but smaller versions are available for regular windows, too. Clean your vertical blinds by wiping each slat with a mixture of soap and water and a microfiber cloth. Lubricate the track to ensure that they continue to open and close smoothly.
Venetian: Venetian blinds are made with horizontal slats attached to string or strips of cloth. When the blinds are raised, the bottom slat is pushed into the slat above it. These popular blinds are easy to clean by dusting them often using a paper towel, soft cloth, or a duster.
Mini: Similar to Venetian blinds, mini blinds feature smaller slats that are approximately one inch thick. Clean your mini blinds by dusting between the slats often using a pair of dusting gloves, a feather duster, or a soft cloth.
Micro: Micro blinds are tiny with slats that are a mere ½-inch thick. Use the same procedure to clean your micro blinds as you would your Venetian or mini blinds, although it may take longer due to the higher number of slats.
Panel: Often used on patio doors, panel blinds use wide sections made of cloth or plastic attached to a horizontal upper track that holds them in place. Lubricate the track to keep it sliding smoothly and wipe each panel clean using a soft cloth or paper towel and a general surface cleaner.
Pleated Shades: Usually made of fabric or paper, pleated shades feature an accordion-like design that offers excellent light filtration. These shades are easy to clean since there are no gaps between individual slats and they can be wiped down quickly using a cloth or duster.
Cellular Shades: Also known as honeycomb shades, cellular shades open in the center to create an air pocket for optimal insulation. You can find these shades in different sizes to fit your window. Clean them using the same methods you would for pleated shades.
Roman Shades: Roman blinds or shades are constructed of fabric, jute, or seagrass and add sophistication to your windows. These shades fold into each section when raised and create a stack of fabric or other material at the top when they're opened. You can clean them based on the type of material they're made of, but most Roman shades are easy to maintain with a simple dusting every week to remove dirt and grime.
Roller Shades: These shades come in different formats and materials, and they're rolled up into a cylindrical mechanism attached to the top of the window. Wipe vinyl roller shades clean with warm, soapy water. If they're made of fabric, you can keep them clean with regular dusting.
Solar Shades: Similar to roller shades, solar shades are designed to protect your home from the heat and UV rays of the sun. Look for solar shades with a light-blocking material to keep your home cool and comfortable. Clean shades using a wet rag or dusting them regularly to remove any buildup.
Smart: Smart blinds operate using a smartphone app to add some AI at home, so you can open and close them remotely. These blinds are popular for skylights or over windows that are high up and hard to reach. Check them regularly to make sure that the mechanisms are working correctly and clean them according to the material they're made of to keep them looking new.
Curtains: Types and Maintenance
Here are some common curtain materials, styles, and opacity levels — plus some advice on how to keep them clean:
Panel Pair: This classic curtain style features two separate panels that connect in the center. You can tie each panel back to keep them open, then simply push each panel together to close them and block out the light.
Single Panel: A single panel curtain is just one panel, and it's typically used on smaller windows. To keep it open, use a curtain tieback to hold the panel away to one side of your window.
Window Treatment Set: Use this option to get a complete set of window coverings. Most window treatment sets include the curtain panel or panels, a valance, and tiebacks. Some sets may also include the curtain rod.
Valance: A valance is used for decoration and features a short strip of fabric that attaches to the top of your window. Valances can be paired with longer curtains or added to smaller windows like those over a kitchen sink.
Window Scarf: This long, thin piece of curtain fabric is similar to a valance since it goes across the top of the window. However, window scarves are much longer than valances and are typically used for decoration only.
Liner: If you need extra shade or want to make a room darker, add a curtain liner. This material can be placed behind sheer curtains or any fabric that needs extra shade and insulation.
Opacity
Sheer: Sheer curtains are made of thin, mostly decorative, and almost transparent fabric. They allow a lot of light in and don't provide much privacy—but these curtains do add a beautiful aesthetic to your windows.
Semi-Opaque: A semi-opaque curtain offers a higher level of privacy and protection from daylight. This material is still on the thin side and only provides partial coverage.
Blackout: Choose blackout curtains if you want to keep a room dark and private. Usually made of heavy-duty material, these curtains are perfect for bedrooms and anywhere you need extra coverage over your windows.
Materials
Cotton: Cotton is a popular curtain material that comes in a range of colors and patterns. This material is easy to clean and can usually be tossed in the washing machine whenever it needs to be freshened up.
Linen: Choose linen if you prefer something heavier than cotton. This beautiful material looks great in any room, but it tends to attract dust and dirt more easily due to its rougher texture. Follow the care instructions on your linen curtains to keep them clean.
Velvet: This smooth, thick fabric blocks sunlight and adds sophistication to any room. Velvet comes in an array of beautiful colors, but it's best to have it professionally cleaned to prevent damaging the fabric.
Silk: Soft and luxurious, silk curtains offer a semi-sheer opacity and a beautiful touch. Due to its delicate nature, it's best to have silk curtains professionally cleaned.
Lace: Lace curtains add a gorgeous touch to windows and are best when layered since the material is sheer. Check the care tag on your lace curtains since some are machine-washable while others may need professional care.
Burlap: This material is similar to linen, however, it's a much heavier fabric. Burlap is easy to clean and adds a nice cover for shade and privacy.
Synthetic: Curtains made of synthetic materials are affordable and easy to keep clean. Most synthetic curtains look similar to other materials like cotton, linen, or velvet—but they often come at a much lower price point.
Whether you're installing double-hung windows or a transom, use these tips to help you choose the best window replacements and window coverings — and keep everything looking new. From a set of Roman shades to a gorgeous velvet panel curtain, window treatments need regular maintenance to help your home look beautiful for years to come. Always follow the window maintenance directions to ensure that your replacement windows and curtains or blinds last for a long time into the future.
About the Author
Cassandra is a content writer at Porch.com. She is passionate about interior design, the environment, sustainability, reading, writing, and music.
Originally posted on Porch.com