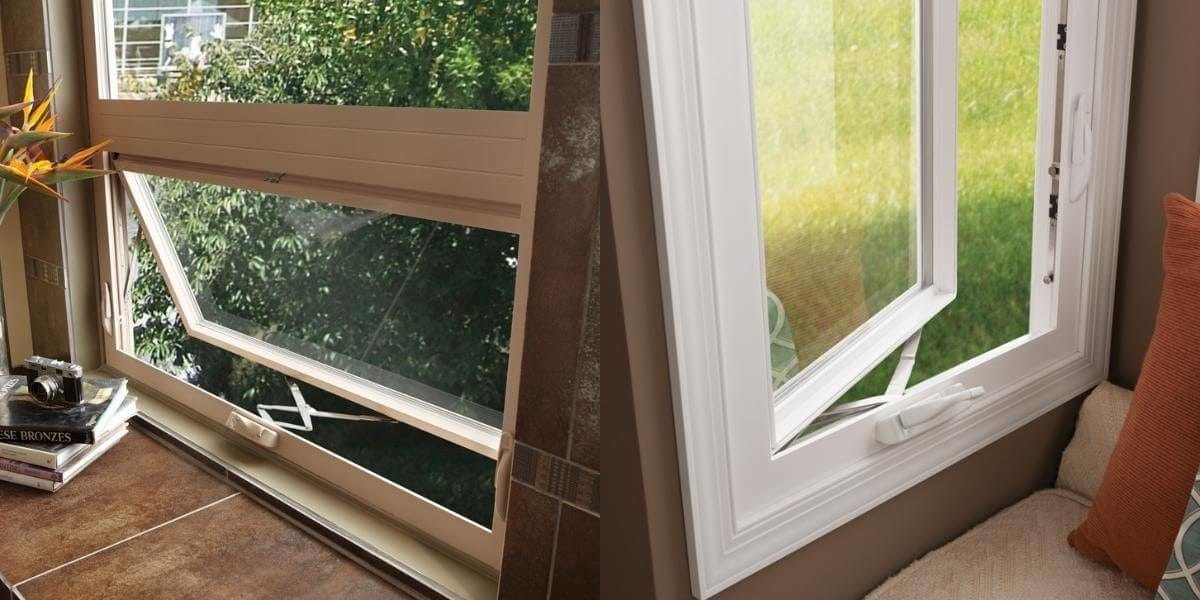 Awning Windows vs. Casement Windows: What's the Difference?
Awning windows and casement windows come up in conversation a lot. Homeowners who want to replace their windows will find that these two window types are very similar. However, there are quite a few differences between the two.
What Are Awning Windows?
Awning windows are a type of window with hinges that sit on top of the frame. When you open these windows, they extend from the bottom and outward. Homeowners often choose these windows because they offer:
Easy installation
High-end ventilation
Unique styling
When replacing older windows with awning windows, you will also benefit from highly efficient windows, which are perfect in areas with high wind.
The high wind will cause the window to form a much tighter seal, sleeping outside air out of your space.
What Are Casement Windows?
At first glance, a casement window may look very similar to an awning window if you've never seen the two before. However, with casement windows, the window has a hinge on either the right or left side of the window.
You'll simply open the window outward using a crank.
If you have a hard-to-reach window, you may want to consider a casement window. These window styles are popular because they offer:
High energy efficiency
Great airflow when open
Multiple style options
You may also find some people calling these windows "roll out windows" or "crank out windows."
Awning Windows vs. Casement Windows
Now that you know the key difference between an awning window and a casement window, let's look at a few more distinctions that will make your purchase easier.
Placement
Awning and casement windows tend to work best in different areas of the home.
Casement windows are ideal for hard-to-reach places, like above sinks or countertops. The crank operation makes it easy to open and close the window without having to stretch and reach up high.
Casement windows are best suited for small and medium-sized window openings. Large openings put too much stress and weight on the window's hinges.
Awning windows are ideal for rooms where you want maximum ventilation, such as a bathroom or kitchen. They can also be placed high on a wall to improve ventilation and natural light without sacrificing privacy.
Although you can technically place either type of window anywhere you want in your home, they are generally better suited for different purposes.
Operation
Although casement and awning windows are suitable for different placements, both require plenty of clearance. In addition, both types open outward, so you'll need to ensure there is plenty of room for them to extend fully when required.
Ensure all shrubs, trees, and hedges are far enough away to allow the window to open fully without obstruction.
As for the operation itself, casement and awning windows are very similar.
Casement windows use a crank to open and close the window. These windows have hinges on their sides that allow them to open up to 90 degrees.
Awning windows also have a crank. However, they open outward from the bottom rather than from the side.
Both types of windows are easy to operate and ideal for placement in hard-to-reach areas.
Energy Efficiency
Because casement and awning windows have similar designs, there isn't much difference in energy efficiency. Both types of windows are considered some of the most energy-efficient options for windows.
A big part of why these windows are so energy efficient is that they only have one sash, and that sash has a seal around its perimeter. As a result, these windows sit tightly against window frames when closed.
Awning windows have an advantage here because when the wind blows, it actually pushes the window tighter against the frame.
Of course, you can find both types of windows with energy-efficient glass options, including double- and triple-pane glass.
Ventilation and Air Circulation
Both casement and awning windows are excellent for improving ventilation and air circulation. Because they open away from the home, air can flow freely into the room.
However, casement windows may have the upper hand when it comes to ventilation. These windows open from the sides, allowing air to flow more freely. Although awning windows still offer excellent ventilation, their bottom-opening design creates resistance that can obstruct airflow.
On the other hand, awning windows have the advantage of being able to be opened even when it's raining. The upward hinge opens the window outward in a slope, which keeps rain out of the home.
When looking for a window style that offers the best natural ventilation, both awning and casement windows are excellent options.
Cleaning and Maintenance
Both awning and casement windows are easy to clean and maintain.
How To Clean Awning Windows
To clean awning windows:
Remove the screen and clean it thoroughly.
Wipe down the frame with a clean cloth and warm soapy water.
Use glass cleaner to clean the window glass.
How To Clean Casement Windows
Casement windows can be cleaned in a similar manner to awning windows:
Rotate your screen clips and lift the screen out.
Open the window fully using the lock handle.
Clean all dust and debris using a brush or dry rage.
Wipe down the glass, putting your hand on the outside edge of the window.
Once cleaned, dry the windows.
Reinstall your window screen.
Close the window.
Proper cleaning and care will keep your casement window working like new.
Cost and Availability
Window availability is high – every home needs them. However, when you're remodeling on a budget, you'll have two primary questions to consider:
How much do awning windows cost?
How much do casement windows cost?
Unfortunately, the answer isn't as clear as some of the other ones on our list. The window's size, style, and manufacturer will play a major role in the overall cost of each window. However, a quick search shows the following price ranges:
Awning window cost: $650 – $950
Casement window cost: $650 – $950
You'll find that some people also put grids on their casement windows to divide the view and light coming in. Additions such as these will add to the price of the window.
Awning windows vs. casement windows is a personal choice. Both window types offer stunning glimpses of the outdoors, come in numerous styles, and are a great option when replacing windows.
Speak with your local window company to find the perfect window style for you and your home.
Call 800-995-8878 or email us to learn more about every type of window we offer and let Metropolitan High Performance Windows help you find the best option for your unique style and budget.