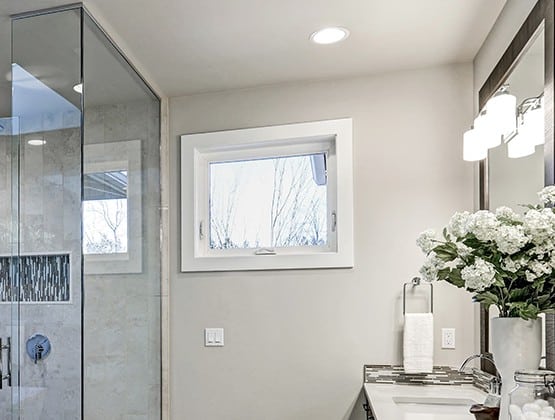 Awning Windows: How much ventilation do they provide?
What are awning windows?
Awning windows are members of the casement window family, but have one major difference from traditional, side opening casement windows. An awning window pivots from hinges that are mounted at the top and open upward instead of sideways. If you are searching for windows that provide an abundance of ventilation, awning windows are an excellent choice.
In most situations awning windows are wider than they are tall, and the entire window sash opens, providing full ventilation from side to side. Since awning windows are hinged at the top and open upward there is nothing in the way of catching a refreshing breeze regardless of the direction of the wind, and the open sash can actually help to tunnel wind into your home.
What are the advantages of an awning window?
One of the main advantages that awning windows have over side pivoting casement windows or slider windows is the fact that when an awning window opens, the raised glass provides a shelter over the window opening, enabling you to enjoy a refreshing breeze even when it is raining without having to worry about letting water leak into your home.
Another advantage of installing awning windows is that they can often be placed high on walls where many traditional style widows would not fit. This trait enables you to enjoy a well ventilated room without compromising wall space. Additionally, an awning window is often placed above or below stationary windows in order to provide adequate ventilation in otherwise stuffy areas.
Learn More…