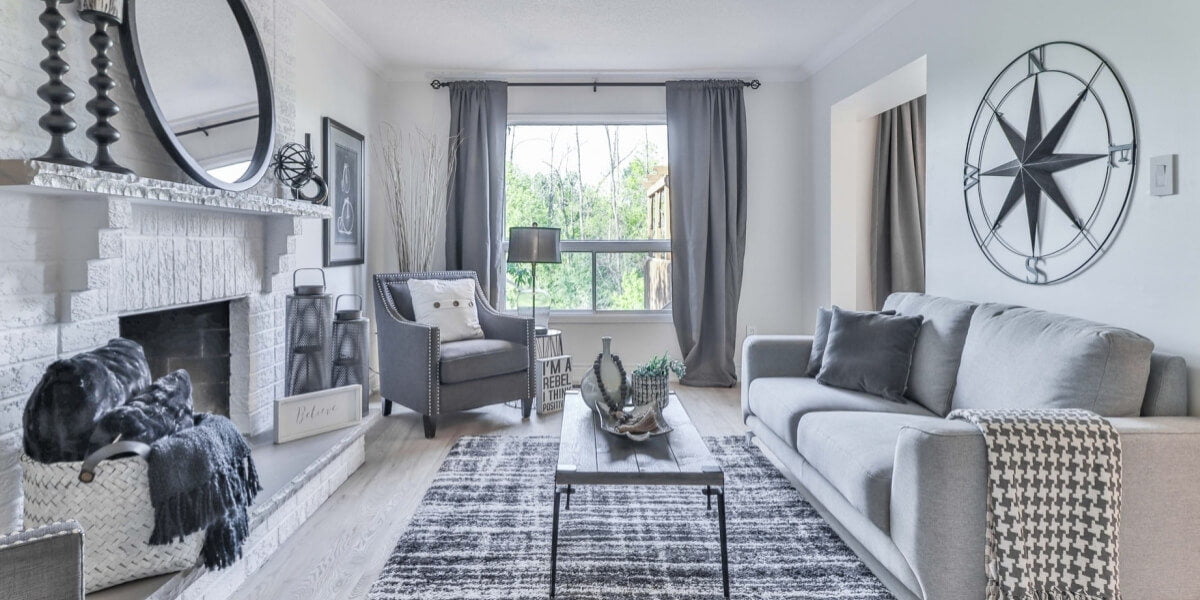 Guest Post by Chloe Taylor: 5 Updates That Will Give Your Old Home a Fresh New Look
It wasn't until the start of the lockdown that many of us realized the importance of having functional and beautiful indoor/outdoor spaces. Spending more time at home than usual has many of us undertaking various home improvement projects to freshen up our homes and give them a new look.
Need some inspiration for your next project? These upgrades will help you give your old abode a much-needed facelift without spending a fortune.
Create a welcoming entrance with a bold hue
One of the most drastic changes you can make to your home's exterior without depleting your budget is to treat your entrance to a fresh lick of paint. Surely, you can go ahead and paint your home's exterior, but if you're up for an instant makeover, all you've got to do is paint the front door in an inviting bright hue.
For an on-trend look, go for something bold. Red is vibrant and welcoming, black is elegant and sophisticated, teal is refreshing, while lime and turquoise are contemporary and non-traditional. While you're at it, freshen up the trim as well by either matching its color to the color of the front door or creating contrast for an interesting visual effect.
Replace old windows (and doors) to boost curb appeal
Old homes have their own charm, but as delightful as those old-world features are, you may have to make certain changes to make your home more functional, beautiful, and energy-efficient. Those old windows may look nice, but if they are drafty and worn-out, there's nothing you can do except replace them.
Fortunately, nowadays you can find brands that offer a wide range of window styles, from single and double-hung windows to double or triple slider ones. That means finding quality replacement windows that match your home's style while also fitting your needs shouldn't be difficult. The same goes for doors – if they feel inadequate and/or contribute to higher heating/cooling bills, you're better off replacing them altogether. You'll be boosting your home's curb appeal and increasing its value while saving yourself a significant amount of money.
Create an outdoor entertainment area
As soon as temperatures go up we're all spending more time outside either enjoying our favorite outdoor hobbies, entertaining friends and family, or simply relaxing in the sun. This is also the perfect time to transform your outdoor area into a fun and cozy space to relax in. Other than finding comfortable seating and cozy add-ons such as hammocks, fire pits, and smart outdoor lighting, revamping your backyard also calls for some outdoor entertainment.
Whether you're up for a game night with your friends or plan on cooking a barbecue for your family, a marvelous outdoor entertainment set is sure to provide a superb experience and take your favorite outdoor activities to the next level. With nifty outdoor gadgets such as a weather-proof TV and a soundbar, you'll be all set so you can bring the fun outside and enjoy quality entertainment sans any worries about the weather.
Update lighting fixtures for a quick revamp
Sometimes, even the simplest upgrades go a long way in transforming an outdated dwelling into a cozy and stylish abode, and swapping the lighting fixtures is one of those nifty interior makeover tricks. Not only is it an upgrade that you can tackle in one morning but it's also an inexpensive way to breathe new life into your interiors.
Some old lighting fixtures may need to be replaced completely with new, modern versions while others can be given a new life if they are in good condition. In that case, transforming old light fixtures is as easy as spray-painting them, accessorizing, or covering them with DIY drum shades.
Create a feeling of spaciousness with nifty design tricks
Knocking down a wall or two is a great way to give your old home a more contemporary feel, but it's also laborious and takes a lot of time, money, and effort. If you're feeling like your old abode could use some space or just want to fake that feeling of spaciousness, there's no need to tear down that wall just yet! Mirrors are very helpful in tricking the eye into perceiving the room as more spacious, and the same effect can be achieved with bright wall paint and room color scheme.
You should also consider eliminating bulkier furnishings as it'll open up your space and make it airy and light. If not, at least consider painting those bulkier pieces (armoires and closets) in a whitish hue so that they merge with the neutral-colored background and create the illusion of extra space.
Wrapping up
Major renovations are great, but they aren't always necessary for giving your home a fresh new look. The suggestions above surely won't break the bank or have you tearing down walls. Instead, they'll help you create a home that's as functional as it is aesthetically pleasing in a way that is fast, easy, and affordable.
About the Author
Chloe is a graduated journalist from Adelaide and a regular contributor to Smooth Decorator. She loves everything related to decor, aesthetics, and lifestyle topics. She is also passionate about photography. Her biggest dream is to travel the world and take stunning photographs of beautiful places. Besides all this, she enjoys drinking coffee and reading a captivating book from time to time.