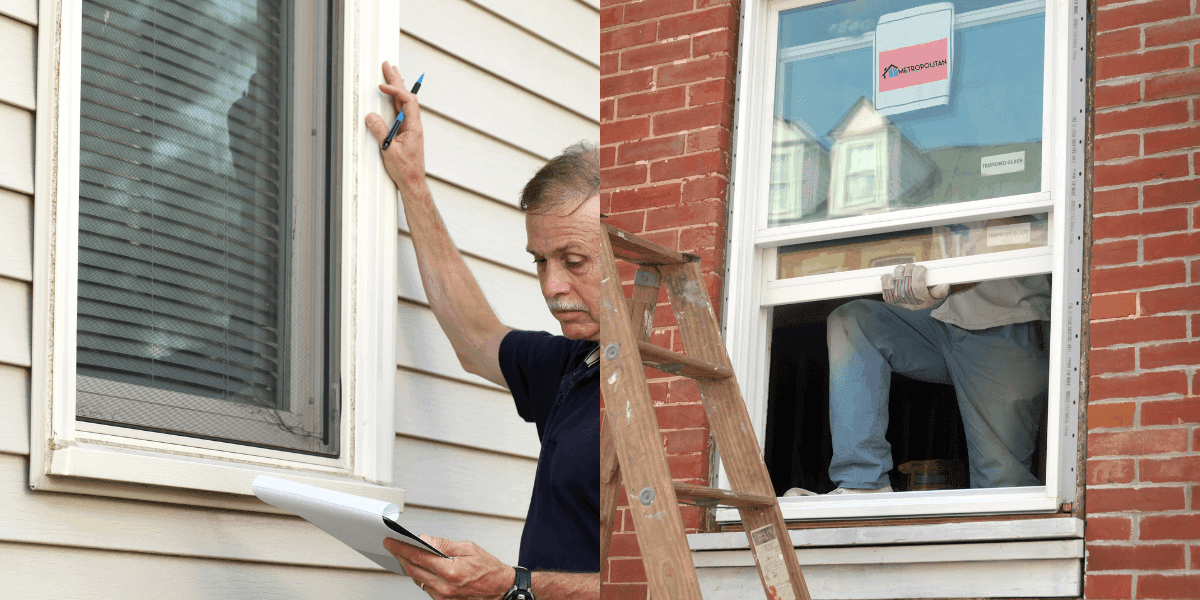 Warning Signs That It's Time to Replace Your Home's Windows and Doors
Replacing a home's windows and doors is a significant financial commitment. You'll need to consider the quality of your current doors and windows and compare them to newer models to determine if the upgrade is in your best interest.
If you're wondering when to replace your home's windows and doors, there are a few warning signs that it may be the right time.
When To Replace Your Home's Windows and Doors
Knowing when to replace windows and doors doesn't have to be complicated. If you notice any of the following, it may be time for a replacement.
They Are No Longer Operating Properly
If your doors and windows are no longer operating correctly, it's almost certainly time to replace them.
Along with being inconvenient, improperly operating windows and doors can be a safety hazard. For example, windows that don't stay open on their own are a fire hazard. Doors that don't close properly can also be fire hazards because they allow smoke and fire to spread more quickly.
Operating issues may indicate a problem with the window or door frame, meaning it's time for a replacement.
They Are Inefficient
Are you noticing a draft or cold area near your windows or doors? If so, it may be time to install replacements. Drafty windows and doors will not only send your heating and cooling bills through the roof – they can also make your home uncomfortable.
Vinyl window replacements can help make your home more comfortable and save you money on your energy bills. Why? Because energy efficient doors and windows offer better insulation to keep your home warmer in the winter and cooler in the summer.
And if you choose ENERGY STAR-certified windows that filter UV light, you can reduce your energy costs even more.
They're Showing Signs of Wear and Tear
If your windows and doors show signs of visual deterioration or condensation, it's time to replace them. Visual signs of wear and tear are likely a sign that something is wrong with the window or door. Deterioration can also negatively impact the aesthetics of your home.
Replacing doors and windows will not only help improve the energy efficiency of your doors and windows but also improve your home's curb appeal. New windows and doors will give your home a fresh, modern, updated look that may increase your property value.
Even if you don't have plans to sell your home, you'll appreciate pulling up to a modern and beautiful home that saves you money while keeping you and your loved ones comfortable.
They Don't Meet Modern Window and Door Standards
If your doors and windows no longer meet modern standards, it's time for a replacement. Modern doors and windows have standards for:
Efficiency
Number of panes
Materials
Single-pane windows are less common today – you can't even buy them anymore due to updated building standards. Modern windows have 2-4 panes of glass, making them more energy efficient.
Energy-efficient windows also have an ER of 34+ or a U-factor of 1.22 W/m2 or lower.
Upgrading your home with windows and doors that meet modern standards will make your home far more comfortable and efficient.
Warranties Have Expired and Parts are Unavailable
Some homes have windows that are 50+ years old. If you need to replace parts for these windows, you'll often find that:
The manufacturer went out of business
Parts have been discontinued
Modern windows come with the option to replace or repair the windows, and you'll benefit from comprehensive warranty programs, too. There's peace of mind that if anything goes wrong with newer windows or doors, they can be fixed or replaced under warranty.
Suppose your windows are old, and you know the manufacturer or window installers are no longer in business. In that case, it's time to consider replacing them.
They Don't Block Noise
Windows and doors are a barrier between your home and the outside world. When you replace old windows with new ones, you can boost their sound-dampening ability by over 50% compared to single-pane windows.
Metropolitan High Performance Windows offers a sound package to block 65% to 75% of noise for increased sound reduction.
Why Replace Windows in Your Home?
Replacement windows and doors can help you improve your home's appeal and function. If you're considering a window replacement, they will benefit you in many ways:
Curb appeal. Windows are a major design element of a home – they're one of the first things people notice when they walk by. If you sell your home, windows will even increase its value. One report found that new windows offer an 85% return on investment.
Improve view and function: New windows will also add to your overall view. Expert window installers can install larger windows or make placement changes to boost the window's function and practicality. Built-in blinds or new opening options are possible when replacing old windows with new ones.
Boost energy efficiency: On top of these benefits, newer windows also help make a home more efficient. New windows have special glazing to reduce heat and cooling loss, accounting for as much as 30% of all heat lost in a home.
Of course, you can also opt for vinyl window replacements if you broke a window or are remodeling and want to replace aging windows in the process.
Many of these same benefits are among the reasons why people replace their doors, too.
Why Replace Doors in Your Home?
Replacing your doors can offer very similar benefits. However, door replacement can also provide you with the following:
Increased security: Protecting your family and home is of the utmost importance. Replacing your home's doors allows you to choose models that are less prone to forced entry and meet higher safety standards.
Durability: Many older doors are made of wood, which will degrade over time. Newer entry doors are often made with fiberglass or metal, removing many durability problems found in older doors.
When you replace a door, you can benefit from a 97% recoupment when you sell the home, meaning that it will nearly pay for itself before considering energy savings.
Replacement windows and doors pay for themselves in the long run. First, you'll benefit from a warmer home that is more energy efficient. However, when you go to sell the house, there's the added benefit of being able to recuperate your investment.
If you recognize any of these warning signs in your home's doors and windows, contact Metropolitan High Performance Windows to see how replacing your windows and doors can offer comfort, security, and savings for years to come.