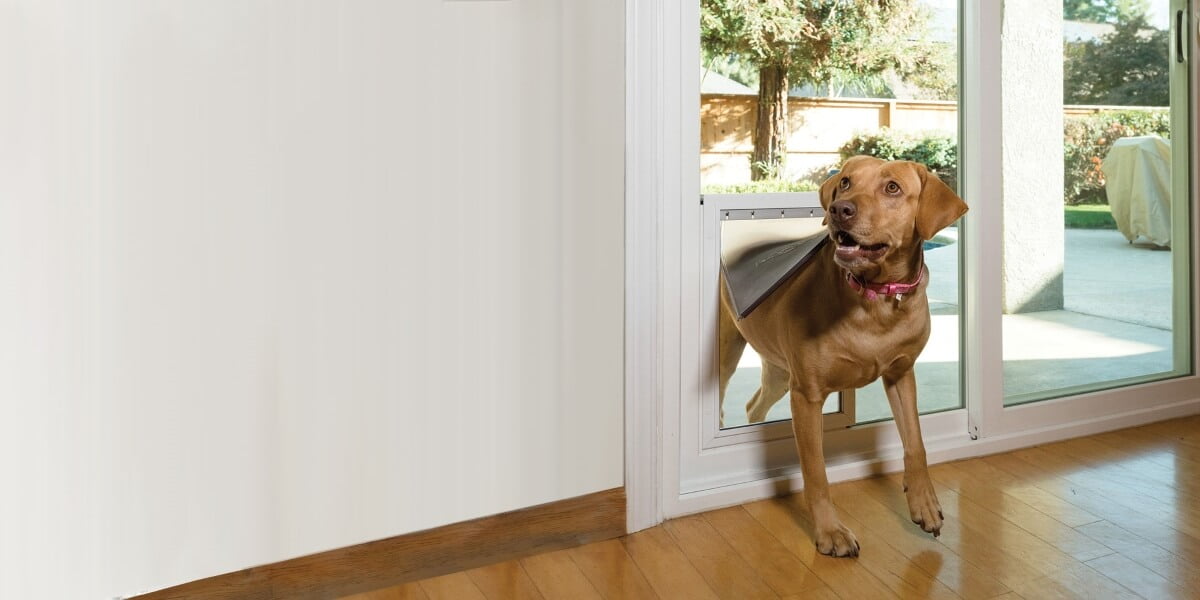 Freedom+ In-Glass Pet Doors
The Pet-Friendly Addition to Your Sliding Patio Door or Swinging French Door
Your pet is a member of your family.  They provide comfort and unconditional loyalty, and in return, you do everything you can to provide the best quality of life possible.  Our custom in-glass pet doors are the latest innovation in pet-friendly solutions.  They will improve your pet's quality of life and provide you with the convenience of not having to let them in and out.
The In-Glass Pet Door for Patio Doors is proudly made in the U.S.A.—right here in California—with industry leading standards and top-quality materials.  We offer pet owners an energy efficient, durable, and innovative pet door solution.  Our sliding patio doors and swinging French doors can be custom-made with a Freedom+ in-glass dog door or cat door built right into the glass.  In addition, we execute end-to-end service from purchase to install.
Benefits of an In-Glass Pet Door
Your pets can come and go to protect your home, your family and themselves.
You don't have to play doorman every time your pets want in or out.
Pets that can get out to relieve themselves leave fewer messes on your floors.
Pets than can get out to exercise tend to be healthier and happier.
Your pets won't ruin your doors clawing to come in or go out.
Cutting-Edge Design
Heavy-duty frame.
Durable flap with a magnetic seal and weatherstrip to keep the elements out.
May be placed in any lower corner of your sliding patio door or swinging French door, including moveable and stationery panels.
With the slim design of the Freedom+ In-Glass Pet Door, your sliding patio door can be opened fully – even when the pet door closure panel is inserted and latched.
Comprehensive Warranty
Covers defects in materials or manufacturing.
Transferable by the original purchase to one subsequent owner of the residence.
Provides homeowner and subsequent homeowner with replacement parts, including labor.
In addition to the manufacturer warranty, we also offer a Comprehensive Labor Warranty.
Freedom for You and Your Pet Is as Simple as Installing a Freedom+ In-Glass Pet Door!
Our dedicated team loves pets and shares a commitment to providing you with the innovative solutions you and your pet deserve.  That is why Metropolitan High Performance Windows provides the highest quality custom built-in pet door for your vinyl sliding patio door or swinging French door.  Give us a call at 800-995-8878 or email to learn more.