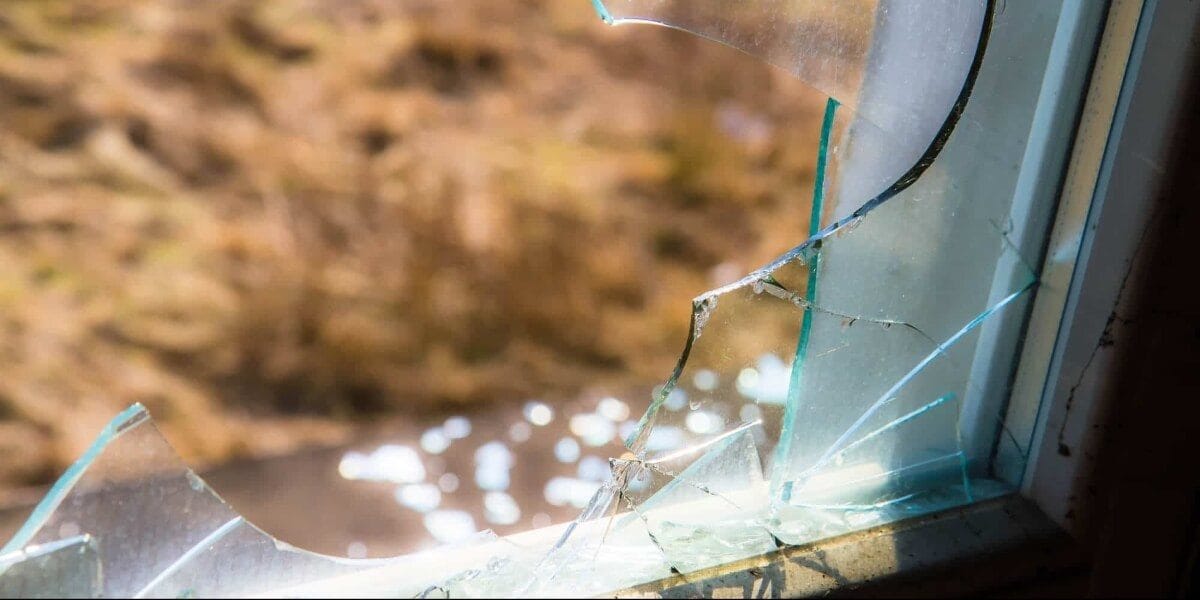 Glass Replacement vs Window Replacement
If the glass in your windows is cracked, broken, or foggy, you've probably asked yourself this question: Can I just replace the glass in my window, or do I need to replace the whole window?
The decision between glass-only vs. whole window replacement is largely dependent on whether you prefer a short-term quick-fix or a long-term solution.  It is also predicated on time, budget, and the overall state of your existing windows.  Both glass installation and replacement windows will provide a solution to your immediate problem, but the end product will vary drastically.
Before making a decision, homeowners should understand their options and the implications of glass installation or window replacement in terms of energy efficiency, cost-benefit, and even the age of the existing windows.  While you certainly should not wait until your old windows give out or start running up your utility bills to install new replacement windows, it is still important to have an idea how long your investment will last.
When Should You Replace Your Home Windows?
High-quality, energy-efficient windows can last more than 20 years with proper maintenance.  Window replacement is the only long-term solution to guarantee your new window will function as intended for years to come.  While it is a bigger investment upfront, energy-efficient replacement windows will save money over time with decreased utility bills and maintenance costs as well as an increase in home value.
There are several instances where a window is not salvageable or it does not make financial sense to save.  In these cases, we highly recommend replacing the entire window or door.
Broken Seals
If your windows have multiple broken seals, it may be a good time to upgrade to new windows.
Rotting
Wood frames are expensive to repair – often as much as the cost of new windows.
Visible Damage
If the windows are ugly or outdated, repairs will not solve the problem.
Difficult Operation
If you've tried cleaning and lubrication and still no luck, it might be time for new windows. Nothing improves on its own – it only gets worse with time.
Old and Outdated Windows
Your windows are the most notable features of your home and can make or break the home's curb appeal and value. If you don't love the way they look, you should consider replacing your windows with an updated, modern look that will make you fall in love with your home again.
Low-Quality Windows
When your home windows are not up to standards it can cause the insulation factor and energy efficiency to decrease dramatically. Single pane windows, difficult operation, and cracks or gaps in the seals, tracks, or window frames are an indication of inferior windows.  There is no quick fix for low-quality windows – consider high-quality, energy-efficient replacement windows.
Drafty Windows
Do you feel a breeze from your windows even when they're close? Drafts usually occur due to faulty seals or corroded weatherstripping but can also be caused by poor installation, inadequate maintenance, unaddressed mold, and advanced wear-and-tear, especially on aging windows or window frames.
Drafty windows let in heat, cold, and dust and will drastically change the overall temperature of your home, causing your HVAC system to go into overdrive to keep up with fluctuating temperatures.  This causes your utility bills to skyrocket.  Consider an upgrade.
Home Security
Some older windows are easy to "jimmy" open while many others have faulty locking mechanisms which make them easy to open from the outside. New home windows are secure and the locking technology is much more advanced so your home and family will have the security they deserve.
High Energy Bills
If your energy bill has skyrocketed, it might be time to replace your windows and doors. Homes with single-pane windows or non-energy-efficient windows lack proper insulation.  This causes your air conditioning or heating systems to work harder to regulate the temperature in your home, only for it to be lost.  To save money and create a more comfortable home environment, opt for high-quality dual pane windows to help prevent from air transferring in and out of your home.
Sound
If outside noises keep you up at night, that's a sign that you may need new windows and doors. This is especially true if you have poorly insulated or single-pane windows, which transfer outside sound vibrations more easily than double pane windows. Energy-efficient replacement windows will also help absorb sound waves before they even enter your home.
When Is Glass-Only Replacement The Best Option?
While Metropolitan High Performance Windows warranties and services all the windows and doors we sell and install we do not offer independent repairs.  If you have decided to opt for glass replacement vs. whole window replacement, simply do an internet search for local glaziers or window repair companies and you are sure to find someone who can help.  Keep in mind if they also sell windows, they might try to steer you in that direction.
Before you do anything be sure to see if the damaged window is under warranty by contacting the manufacturer or window installer – by replacing the glass you could unintentionally void the warranty!
Quick Fix
If you need the window replaced the same day, glass replacement is your best bet. Custom window replacements typically take about three to five weeks to be manufactured whereas a glass shop can cut a piece of glass in a few hours.
Budget
Glass-only replacement is usually the less expensive option. While this is not always the case, it is often more affordable.  If you only have a couple hundred to spend, glass replacement is likely the option for you.
DIYer
Do you fancy yourself a handyman? Do you know how to properly measure glass?  If so, you might be able to save even more money by tackling this project on your own.  Be careful when pursuing this option as you really need to know what you are doing or the costs can quickly approximate the cost of a whole new window – without the benefits of energy efficiency, aesthetics, and warranty.
Muntins
If your window is comprised of multiple small panes of glass rather than one solid piece of glass – most frequently found in wood windows – it often makes sense to just replace the one individual pane.
New Windows
If you have newer energy-efficient dual pane windows, glass replacement makes a lot of sense. Depending on your window's warranty this work might be covered, which means you can get the glass replaced for free or at a discounted rate.  Call the dealer or window company that sold your windows to file a warranty claim.
Summary
Remember any glass replacement or frame repair will not improve the poor seals, drafts, hard operation, and energy efficiency of the old windows.  While repairing windows may very well be the right move for your situation, remember to keep in mind long-term aesthetics, comfort, and the energy savings of between 30-50% you will receive with new windows as you conduct your performance cost-benefit analysis.  Also, factor in that new windows hold close to 100% of their value at resale.
Bottom line – if you just want to keep the status quo for a couple more years to keep things going, replace the glass.  But if you are even considering upgrading to new windows, give us a call.