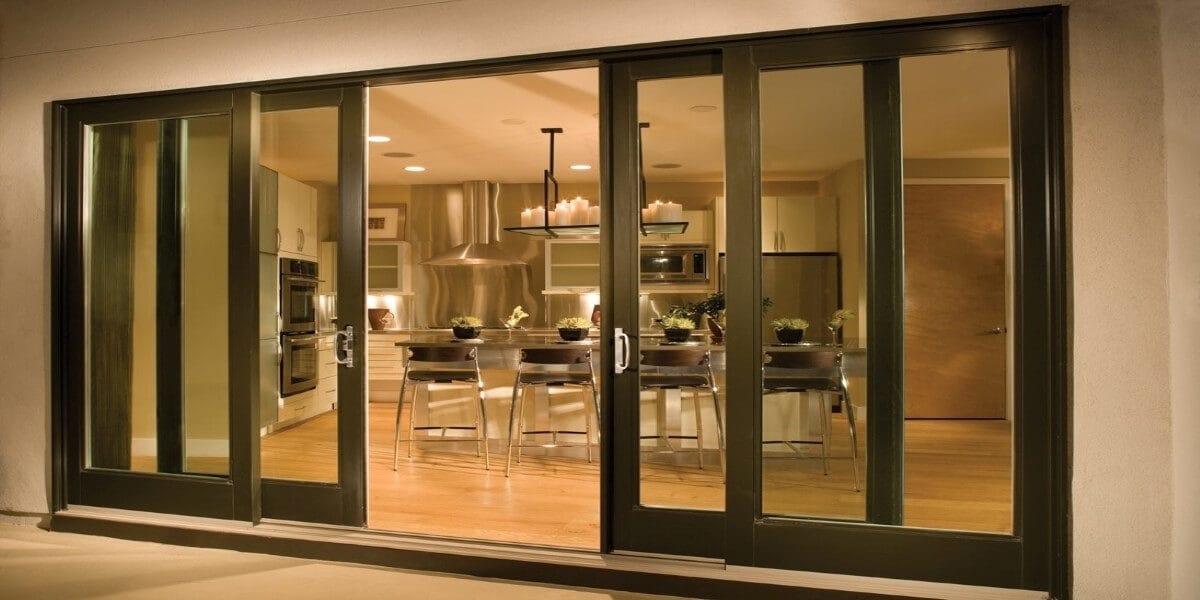 Colored Vinyl Windows are Trending – Here's Why
When most homeowners think of windows, they envision white frames and grids. But a new trend is emerging in window design, and it's one that's here to stay: colored windows. More homeowners are choosing to install colored vinyl windows and doors when renovating their homes.
Black window frames are especially trendy right now. But what is it about colored windows that homeowners like so much? What's the story behind this trend?
The Trend That's Here to Stay
More homeowners are choosing colored windows over their conventional white and neutral-colored counterparts. And what's more surprising is that dark colors, particularly black, are the preferred choice.
Homeowners like colored windows for several reasons:
Boost Curb Appeal
One of the main reasons why homeowners are choosing colored windows is because they can significantly boost your curb appeal. Dark colors in particular can really distinguish a home and make the property stand out.
Design Versatility
Colored windows, especially black window frames, can become a part of your home's interior design. They add contrast, interest, and beauty to a space.
Black windows – and colored windows in general – make a statement on their own, so you may not need to install curtains, blinds, or shades as an accent piece for your home. If privacy is a concern but you don't want to cover your windows, consider obscure glass or a Blue/Gray LowE tint, which has the added benefit of increased energy efficiency.
Affordability
Colored vinyl window frames are an affordable option for homeowners both in the short-term and the long term.
Vinyl windows won't bend, warp, peel, or crack, so you'll spend less time and money on maintenance. And vinyl windows have a long lifespan so you don't have to worry about replacing your windows again for a long time, if ever.
Easy Maintenance
Speaking of maintenance, vinyl colored windows are so easy to maintain. In addition to not cracking, peeling, or warping, they don't require re-painting. The rich color will stay intact for years to come.
A Brief History of Colored Windows
Black replacement windows are a relatively new trend. In the past, the industry simply did not have the pigment technology to create truly dark window frame colors. Homeowners had two color choices: white or beige.
The problem with dark tones is that they absorb the sun's heat. When vinyl reaches temperatures above 140 degrees Fahrenheit, it warps or deforms. Light colors prevented this from happening.
Now that vinyl windows represent the vast majority of the residential window market in the U.S., the industry responded to demands for colored options through innovation. Today's vinyl colored windows are designed to avoid the overheating problem entirely using Reflective Pigment Technology (RPT).
The Science Behind Colored Windows
RPT has changed the vinyl window industry. This technology uses colors that reflect the sun's infrared spectrum, which keeps the vinyl from overheating and distorting. Thanks to this technological advancement, vinyl windows are now available in dark colors, including black.
Colored windows, or more specifically the frame, can be made to fit into any home's color scheme. There are white, wood-colored, black window frames, and multiple other options available.
The window frames are constructed with PVC – yes, the common plumbing material – because PVC offers numerous benefits:
Low maintenance
Durable
Moisture resistant
White vinyl is a common option, but homeowners can choose any color they wish for their windows due to the manufacturing process. For example, if a homeowner wants black replacement windows, the manufacturer can apply coloring to the PVC material during the manufacturing process.
Darker colors are a little more difficult to achieve with vinyl windows, so manufacturers have developed their own application techniques to achieve these darker hues, making black vinyl windows a reality.
Of course, multiple methods can be used in the coloring process…
Paint: A labor-intensive method for colored windows is painting the frames. While this is a rigorous method, paints can be formulated to have excellent weathering and low heat buildup.
Capstock: The capstock process is a method in which the material, such as acrylic, is capped onto the vinyl. This method improves the window's weathering capabilities drastically. The result is a durable, efficient product available in a wide array of colors.
Hotstamping: Heat and foil can be used to attach the coloring to the window profiles. Heat is responsible for the transfer of color in the hotstamping process. Hotstamped profiles will require a touch-up after weld cleaning and should have a protective film applied to reduce scratching.
Cladding: Aluminum cladding has a fairly low impact on a window's thermal performance and offers superior coating. There will be tolerance issues, additional cost for painted metal, and additional labor for fabrication and assembly. Some care will be required to minimize paint scratching.
Laminates: After the extrusion process, laminates can be hot glued to the profile. Lamination can be challenging and labor-intensive, and tooling needs to be relieved to accommodate the thickness of the laminates.
The paint and capstock processes are the most common and are the best ways to color a window because both allow for uniform color throughout the frame, require minimal maintenance, and offer longevity and durability – all without a negative impact on the energy efficiency of the window.
There are many successful paths to the colorization of vinyl windows. It is important to match the needs of the customer with the proper application technique.
Where to Buy?
Window manufacturers sell and offer colored windows, but it's always better to discuss your options with a licensed window contractor. A contractor will walk you through multiple options for your colored vinyl windows and even recommend colored window frames.
The contractor will ensure that you choose windows that will stand the test of time.
Metropolitan High Performance Windows is your licensed window dealer that offers a wide range of window brands, styles, options, and colors for your space.
Click here for an in-home, no obligation estimate for your colored windows.